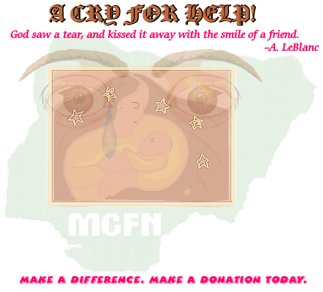 The numbers are still astonishing. One out of every 8 people will be diagnosed with one form of cancer or the other during their lifetime. But it's not only the victim who is hurting. Its everyone whose life is touched by it, and changed by it. Cancer is everyone's problem. Conquering cancer is everyone's responsibility. To move things along faster, we need your help. Join us in the fight against cancer. With a donation that will make a difference now, and in the future, because when you're faced with surgery, radiotherapy and chemotherapy what you need is support and encouragement from family and friends. All proceeds of naira, dollar, pound sterling, equipment, building, etc you contribute will go directly towards the funding of development and implementation of the MAMA CANCER FOUNDATION OF NIGERIA's Secretariat, diagnostic, treatment and research center also Outreach Programs, AWARENESS CAMPAIGNS/ADVERTS, NEWSLETTERS, MAGAZINES, HOSPITAL VISITS, DRUGS, DOCUMENTARIES/FILM PRODUCTIONS.

Make a Difference. Make a Donation.
Support MAMA CANCER FOUNDATION OF NIGERIA today
Donations can be made in cash, bank draft or using the Western Union Money transfer. All bank drafts or money orders should be made payable to MAMA CANCER FOUNDATION OF NIGERIA (For Sponsorship Information
on all or any of our programs please see the "Join MCFN" or the "Contact Us"page for further details).
Click here and use the form to make your donation.

A not - for - profit organization.